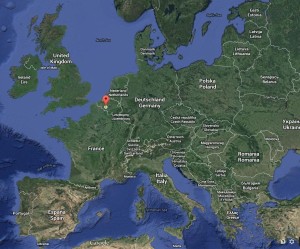 Belgium, Wallonia.
The little village of Bassilly (municipality of Silly) has to face recurrent floodings. To solve that problem, the Direction of Rural Land Development in close collaboration with the municipality of Silly launched hydrological and engineering studies to create three temporary immersion areas (artificial wetlands). These facilities cover 4.5 hectares and can contain 23,500 m³ of water.
 Reducing the environmental impact and maximizing the efficiency of these infrastructures were the drivers of this project.
The design took into account ecological, landscape and social issues :
only 8,000 m³ of the 40,000 m³ of excavated soil were evacuated out of the building sites.
to enhance biodiversity in these wetlands; several ecological habitats were created (pond, creek, orchard, hedge)
the surroundings of the wetlands were thought as green spaces (parking, educational signs, street furniture, observation hut, pontoon, deck observation).
The municipality of Silly could get the needed ground without any expropriation thanks to the reallotment.
 The temporary submersion area of "Crompe Pasture" : not really a storm basin !
 What is a temporary submersion area?
 Storm basins are often associated with a negative image. It is seen as a concrete-filled useless hole.
The conception of these facilities has yet highly evolved but the stereotype is still living.
A temporary submersion area is a new generation of building with a different approach.
 Multi-functional?
Contrary to the traditional storm basin, a temporary submersion area has several functions.
The artificial wetland of "Crompe Pasture" is, in the same time,
a water-storage against flooding
an educational tool for school
a natural area
a green space
Technical specifications of the temporary submersion area of "Crompe Pasture"
Surface area of the catchment area: 90 ha
Retention volume: 5750 m³
Return period: 50 years
Peak flow entering: 1.18 m³ /s
Leak rate: 0.2 m³ /s
Excavation carried out: 8026 m³
More information

http://agriculture.wallonie.be/apps/spip_wolwin/article.php3?id_article=366
Contact

Service Public de Wallonie, Direction de l'Aménagement Foncier Rural (DGO3)